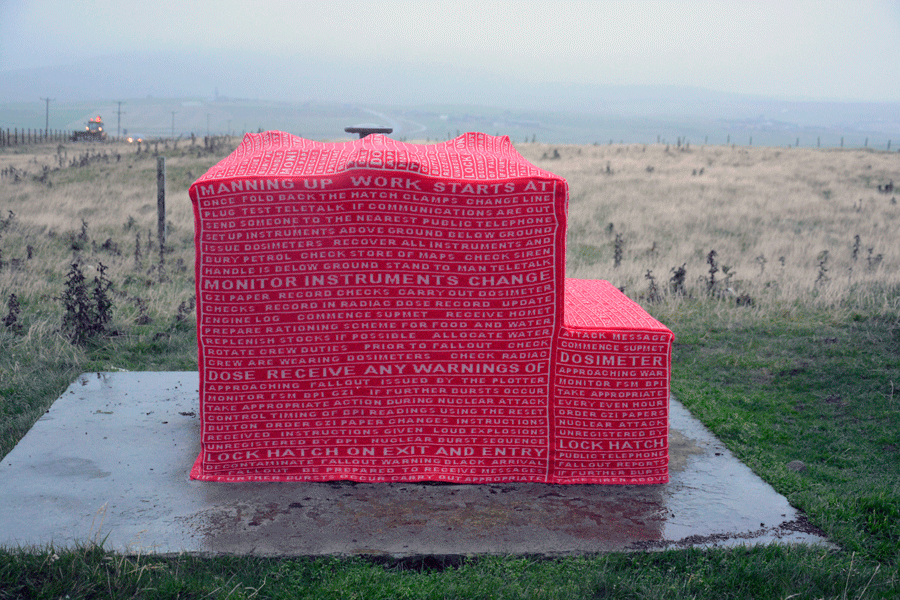 1/3
Recount was the second project with Susan Timmins about Shetland's role in the Cold War. The project focussed on the Royal Observer Corps, known as the ROC, bunkers which were in use from 1960 to 1991. There were approximately 1500 ROC bunkers throughout the UK, four of which were located in Shetland, in Lerwick, Voe, Walls and Sumburgh. The civilian volunteers were trained by the RAF to monitor radiation in the event of a nuclear attack from the Soviet Union.

We designed glow-in-the-dark knitted covers for each of the remaining sites in Shetland at Walls, Voe and Sumburgh. Text on the covers was drawn from the operations manual for the ROC Posts. They were knitted at the Textile Facilitation Unit in Shetland College UHI, by Eric Stuart, Senior Technician. Sandra Johnson was the linker who finished each cover before installation, then each one had to be hand stitched into place in-situ.
You can listen to audio interviews with former ROC volunteers and our Recount web page and read more about the project in our publication here.